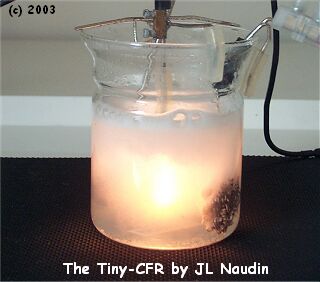 Tests of a Tiny Cold Fusion Reactor
created on May 8, 2003 - JLN Labs - Last update May 18, 2003
Toutes les informations et schémas sont publiés gratuitement ( freeware ) et sont destinés à un usage personnel et non commercial
All informations and diagrams are published freely (freeware) and are intended for a private use and a non commercial use.
---
The Cold Fusion Reactor ( CFR ) is fully based on the work of the researchers Tadahiko MIZUNO and Tadayoshi OHMORI from the Hokkaido University in Japan.
---
1 - Cold Fusion Reactor ( Tiny-CFR ) - Description :
The Tiny Cold Fusion Reactor is composed of a small pyrex beaker filled with a 150 mL solution of Sodium Hydrogenocarbonate ( NaHCO3 ) 0.5 molar ( 0.5 M ). The Sodium Hydrogenocarbonate ( NaHCO3 ) or baking soda is commonly named in France " Bicarbonate de Soude ".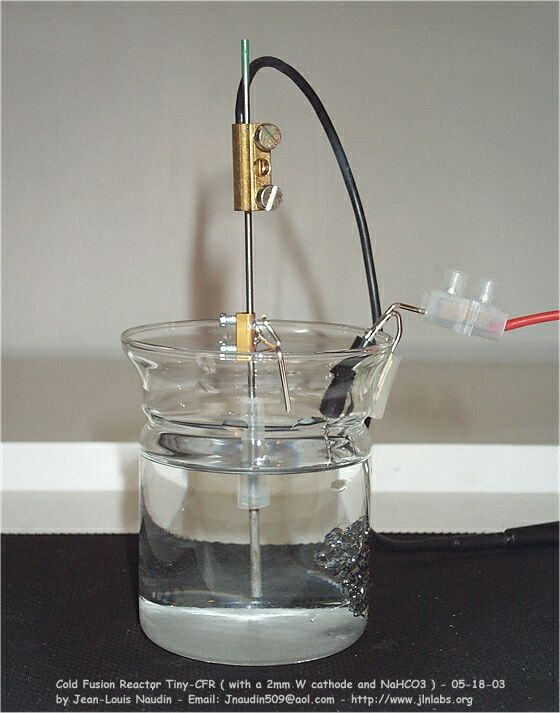 The Cathode used is a pure tungsten rod ( W ) 2 mm diameter and 25 mm length from tungsten welding rods. The Anode used is composed of stainless steel mesh maintained with a stainless steel shaft. All the wires connections are made with a 1.5 mm2 copper flexible wire gained with silicon.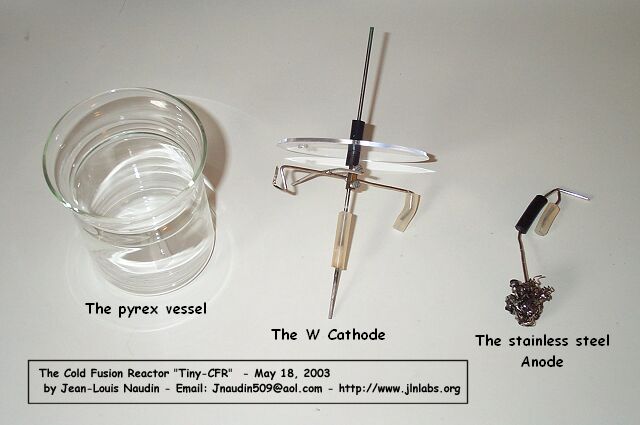 The W-Cathode is a 2mm diameter and 150 mm tungsten welding rod.
---
2 - Experimental test setup :
Three tests have been conducted on the Tiny-CFR, one test at LOW POWER and two tests at a MEDIUM POWER. In all the cases the voltage have been set so as to get a glowing plasma around the cathode.
2-1 - TEST #1 AT A LOW POWER :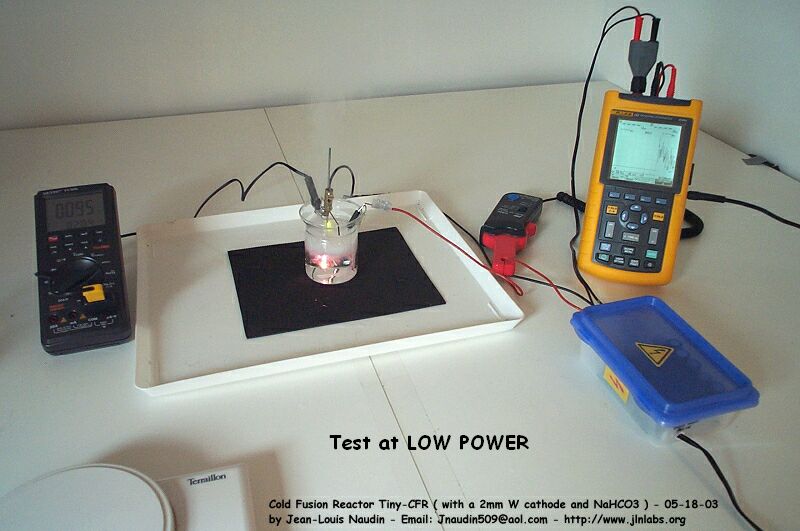 The Tiny-CFR is powered with a DC voltage through a bridge rectifier connected to an isolation transformer. The voltage input has been measured with a digital oscilloscope Fluke 123 with a Shielded Test Lead STL 120 ( 1:1, 1 Mohms/225 pF ). The current input has been measured with a current clamp CIE Model CA-60A ( Accuracy DC Amps ±1.5%, AC Amps±2% (40Hz-2kHz), AC Amps±4%(2kHz-10kHz), AC Amps±6%(10kHz-20kHz) ). The temperature has been measured with a type "K" temp probe ( NiCrNi ) connected on a VC506 digital multimeter ( -20°C to +1200 °C with an accuracy of +/- 3% ). ( see the photo above ).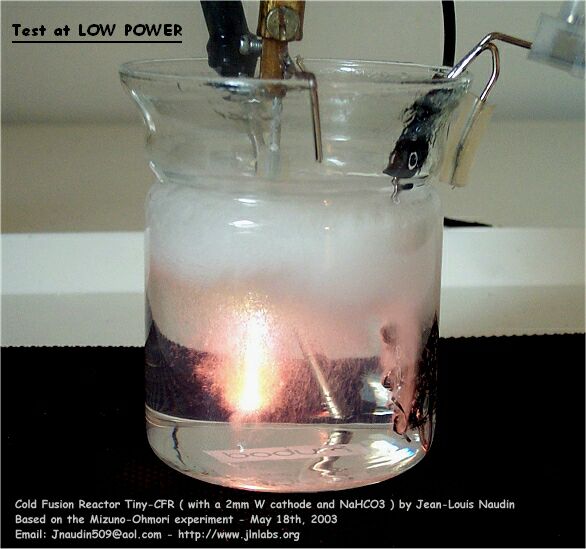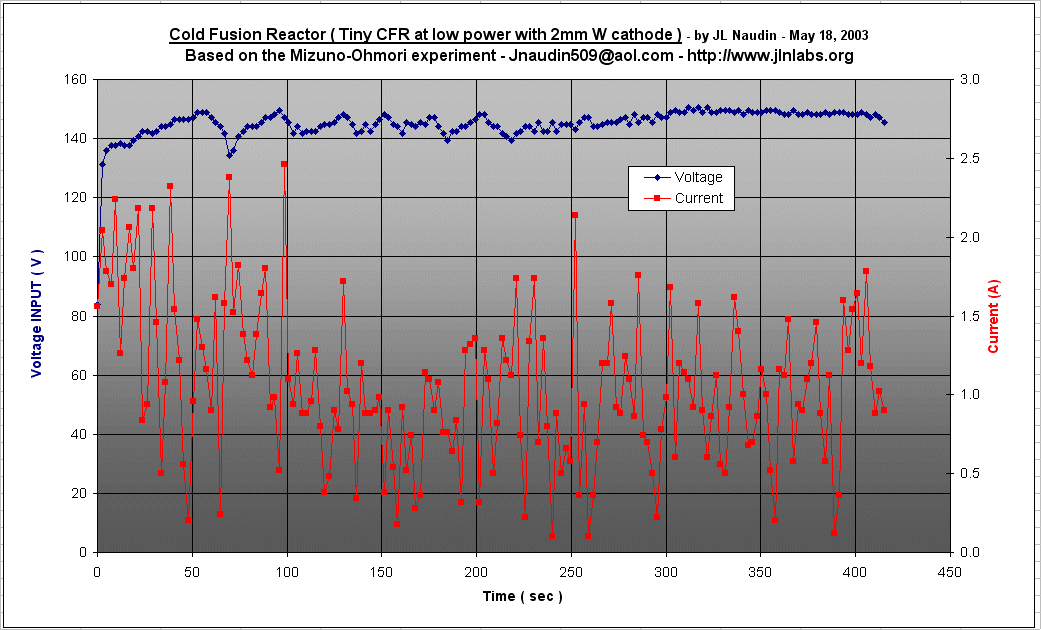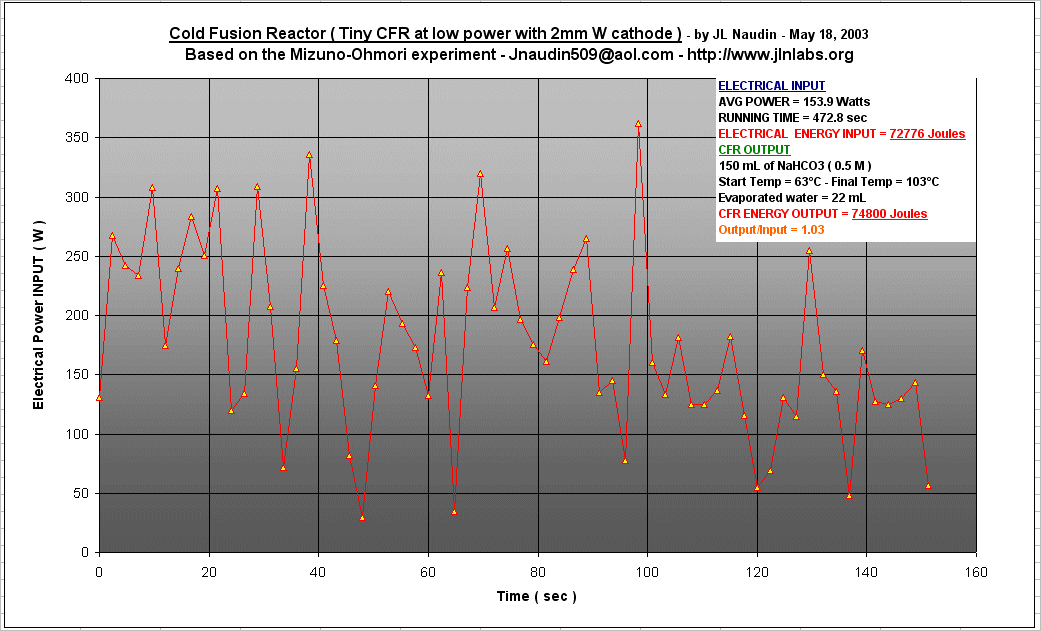 POWER INPUT/OUTPUT - Low Power TEST RESULTS :
The Voltage/Current datas logged give an average electrical power input of 153.9 Watts during 472.8 seconds, so this gives :
ELECTRICAL ENERGY INPUT = 72776 Joules
The evaporated water in the CFR during the full boiling was 22 mL. We know that we need 2260 J/g to vaporize water. The temperature rise of the 150 mL was 40°C. So, this gives :
ENERGY OUTPUT = ( 22 x 2260 ) + ( 150 x 40 x 4.18 ) = 74800 Joules
Power OUTPUT = 158.2 Watts, Power Gain = 4.3 Watts
Energy OUTPUT/INPUT = 74800 / 72776 = 1.03
---
2-2 - TEST #2 AT A MEDIUM POWER :
TheTiny-CFR has been equiped with a plastic disk placed above the pyrex beaker for avoiding that some water be lost during the strong reaction inside the reactor .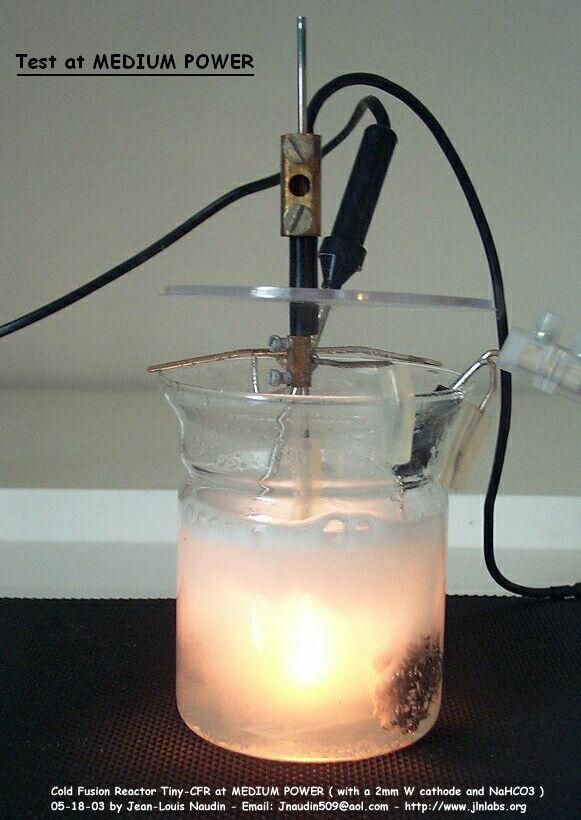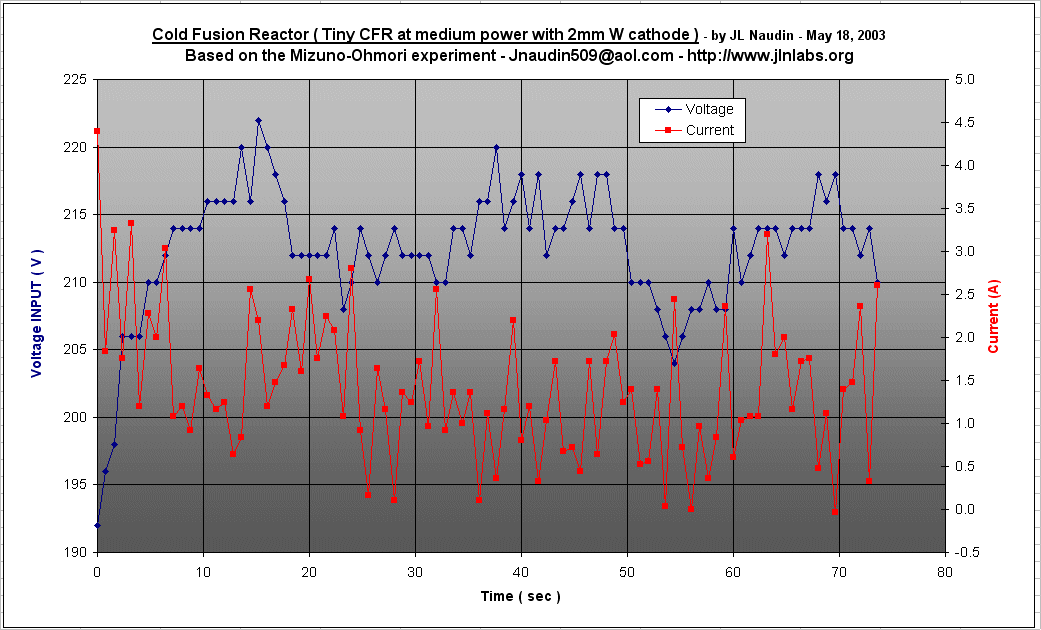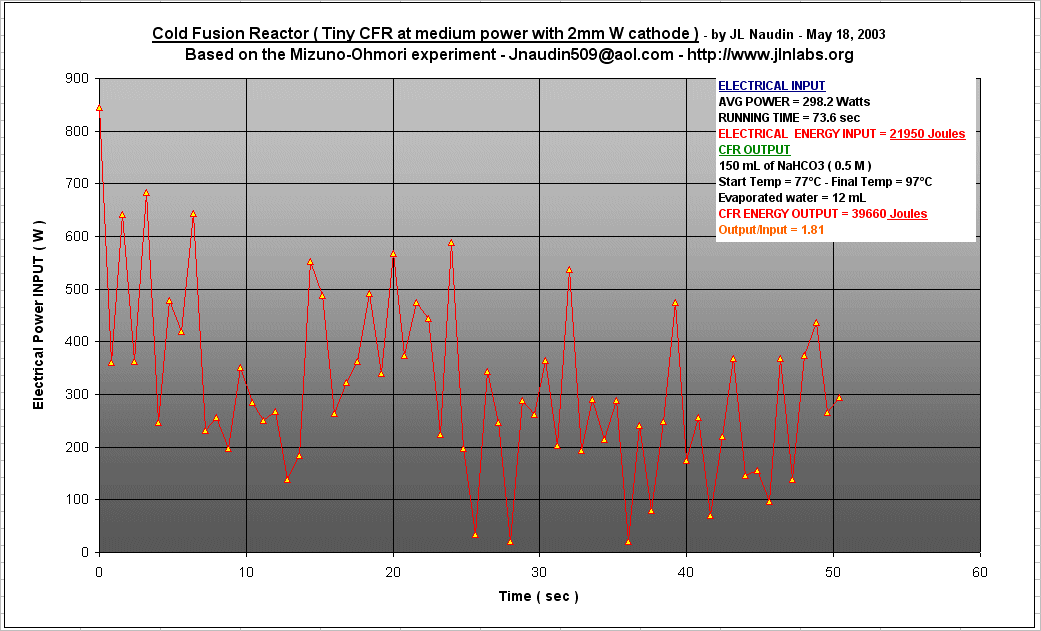 POWER INPUT/OUTPUT - Medium Power TEST RESULTS :
The Voltage/Current datas logged give an average electrical power input of 298.2 Watts during 73.6 seconds, so this gives :
ELECTRICAL ENERGY INPUT = 21950 Joules
The evaporated water in the CFR during the full boiling was 12 mL. We know that we need 2260 J/g to vaporize water. The temperature rise of the 150 mL was 20°C. So, this gives :
ENERGY OUTPUT = ( 12 x 2260 ) + ( 150 x 20 x 4.18 ) = 39660 Joules
Power OUTPUT = 538.9 Watts, Power Gain = 240.7 Watts
Energy OUTPUT/INPUT = 39660 / 21950 = 1.81
---
2-3 - TEST #3 AT A MEDIUM POWER :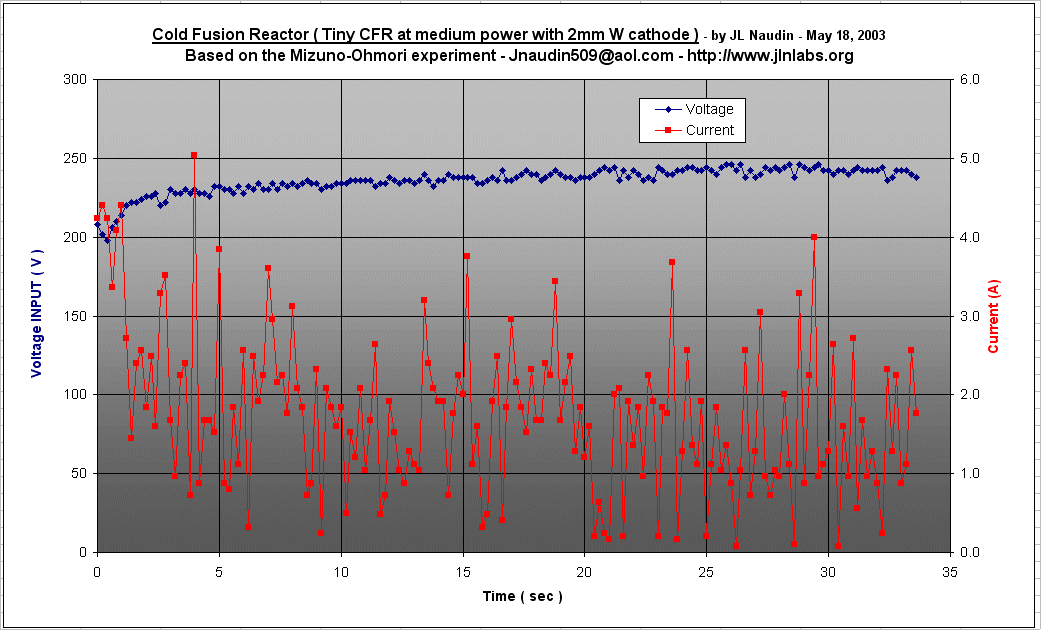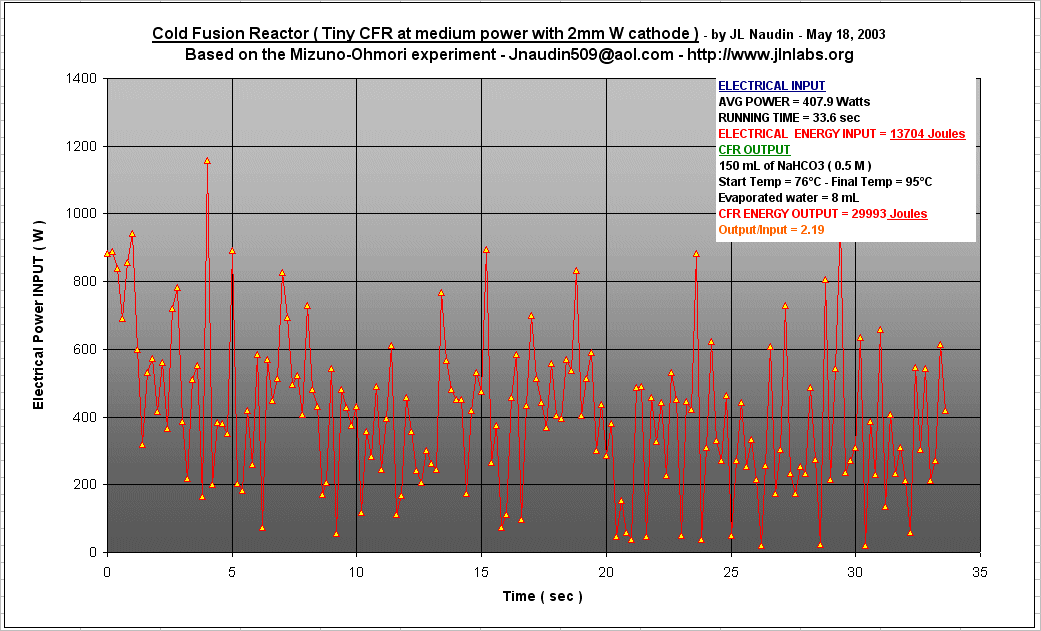 POWER INPUT/OUTPUT - Medium Power TEST RESULTS :
The Voltage/Current datas logged give an average electrical power input of 407.9 Watts during 33.6 seconds, so this gives :
ELECTRICAL ENERGY INPUT = 13704 Joules
The evaporated water in the CFR during the full boiling was 8 mL. We know that we need 2260 J/g to vaporize water. The temperature rise of the 150 mL was 19°C. So, this gives :
ENERGY OUTPUT = ( 8 x 2260 ) + ( 150 x 19 x 4.18 ) = 29993 Joules
Power OUTPUT = 892.6 Watts, Power Gain = 484.7 Watts
Energy OUTPUT/INPUT = 29993 / 13704 = 2.19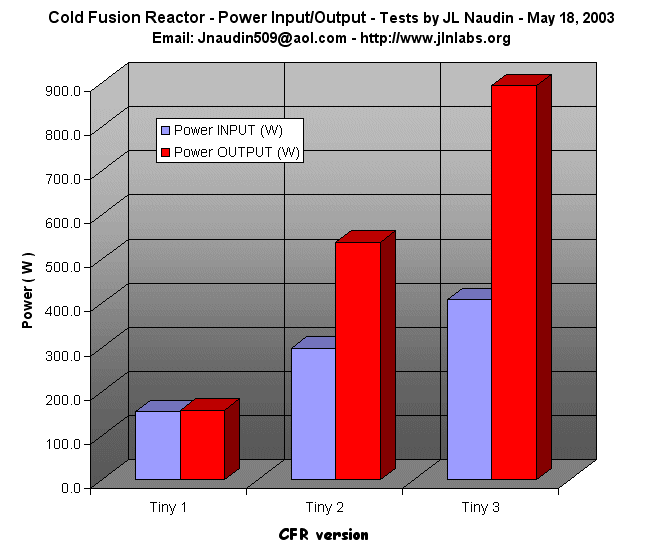 See a video of full demonstration of the Tiny-CFR in action
To see the video, the free downloadable RealPlayer is required


You may download free the RealPlayer 8 Basic at : http://proforma.real.com/real/player/blackjack.html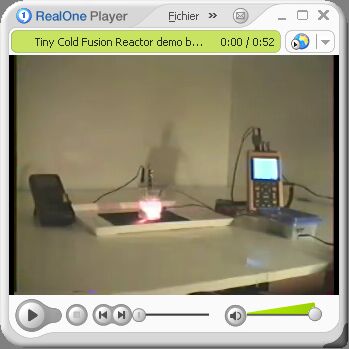 Click on the picture above to see the video ( 981 Kb )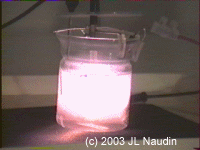 Animated video of the Tiny-CFR in action
---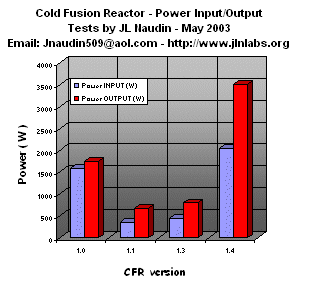 Cold Fusion Reactor : Full Experimental datas results
---
Interesting documents and references :
Mizuno, T., et al., Production of Heat During Plasma Electrolysis. Jpn. J. Appl. Phys. A, 2000. 39: p. 6055.
Mizuno, T., T. Akimoto, and T. Ohmori. Confirmation of anomalous hydrogen generation by plasma electrolysis. in 4th Meeting of Japan CF Research Society. 2003. Iwate, Japan: Iwate University.
Mizuno, T., Nuclear Transmutation: The Reality of Cold Fusion. 1998, Concord, NH: Infinite Energy Press.
Mizuno, T. Experimental Confirmation of the Nuclear Reaction at Low Energy Caused by Electrolysis in the Electrolyte. in Proceedings for the Symposium on Advanced Research in Energy Technology 2000. 2000. Hokkaido University.
COLD FUSION BY PLASMA ELECTROLYSIS OF WATER by Ph.M. Kanarev - The Kuban State Agrarian University, Department of Theoretical Mechanics.
Ph.M. Kanarev. Water is New Source of Energy. The Third Edition. Krasnodar 2002.194p
See the previous tests :
---

Email : JNaudin509@aol.com
---
return to the Cold Fusion Project home page